Jungle and Beach Combination Package
Our six-night jungle and beach inclusive package will take you to two of Belize's unique hideaways; SunBreeze Suites on the tropical island of Ambergris Caye and Maya Mountain Lodge on the edge of the rainforest in San Ignacio Town.
The perfect Belize vacation combination! Learn how to chill (relax) and enjoy the thrill, Belizean Style! Chill in Caribbean warm waters, soak up the sun in white sandy Belizean beaches and experience the thrill of exploring Maya ceremonial temples and caves. Enjoy the excitement of zip lining atop the jungle canopy while enjoying a bird's eye view of Belize's tropical rainforest!
SunBreeze Suites is situated in the laid back beach town of San Pedro, on the popular Ambergris Caye. The festive sandy streets of San Pedro Town welcome you to join in the fun, and fulfill your warm weather fantasies with the magnificent Caribbean Sea just a few steps away. Snorkel in warm crystal clear blue waters right off the Caribbean Shores and spot dozens of different varieties of fish and other marine life.
In the mainland, immerse yourself in the lush jungles of western Belize at Maya Mountain Lodge located in the outskirts of the small town of San Ignacio. Be ready to explore ancient Maya temples and ceremonial caves from this adventure hub. Learn more about our diverse cultures and our vast local flora and fauna.
This six night package can begin any day of the week and you may choose which portion you would like to start with. You may also add additional nights inland or at the beach.
Jungle and Beach Combo Package
Arrive any day to join the Belize adventure
TIKAL IN GUATEMALA
Discover the heart of the Maya World, just a 2 hour drive from Belize's western border. This World Heritage Site in one of the best known natural history destinations in the world. Discovered in the 1900's, Tikal represents one of the most fascinating Maya Archaeological sites of the Mundo Maya. It is considered one of largest and most powerful cities of the Classic Period, until it was suddenly abandoned over 1000 years ago and the jungle outgrew the massive temples and structures there. It is still a mystery as to why the population suddenly disappeared and ceased to exist.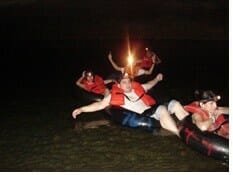 CAVE TUBING AND ZIP LINING
Enter the exciting world of an underground water cave system and disappear into the Maya underworld as you float on inner tubes with only your headlamp to light the way. Discover amazing stalagmites and stalactite formation throughout this cave system. Float past underground waterfalls then into the crystal cathedral, a ceremonial center, sacred to the ancient Maya. End the day with an exhilarating zip-line experience. Enjoy a bird's eye view of Belize's rainforest while you zip line from tree to tree atop the jungle canopy.
ACTUN TUNICHIL MUKNAL (ATM)
An exceptional cave exploration adventure that was featured on the cover of National Geographic Traveler Magazine. Swim into the cave with full gear and then explore where human sacrifices were conducted in past ages. Be prepared to be thrilled ...this tour is not for the faint at heart.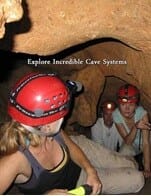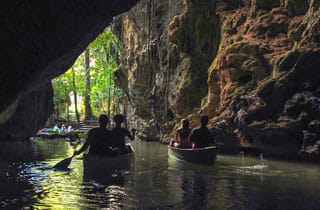 BARTON CREEK CAVE CANOEING & MORE
For those who might not be up for a strenuous adventure like ATM you have the option of a more easy paced tour like Barton Creek Cave Canoeing. This trip involves paddling a canoe along an ancient Maya waterway inside a mountain. Your guide will point out skulls and artifacts as you pass between stalactites. This is one of the largest caves in the world. The high ceiling and beautiful rock flows and cathedral chambers make this a beautiful place to photograph. We then head into the mountains for an afternoon of swimming in mountain pools and enjoying waterfalls.
DETAILS
This six night package includes accommodations, breakfast and dinner daily at Maya Mt. Lodge and Continental Breakfast daily at SunBreeze Suites, all transportation; including round trip ground transfers to and from Belize City & Inland Hotel, local airfare to and from the Belize City & Island Hotel. Also included are guided tours of *Tikal in Guatemala, ATM Cave Exploration OR Barton Creek Cave Canoeing, *Cave Tubing and Zip Lining will be done on a transfer day, and ½ Day Snorkel Trip to Holchan Marine Reserve and Shark Ray Alley ( park fee for Holchan Marince Reserve and Shark Ray Alley is not included. All other park entrances fees, guide and equipment fees, all taxes and service charges are included.
Cave Tubing & Zip Lining will be scheduled on transfer day. If coming from the island to Maya Mountain Lodge a 9:00am departure from San Pedro is required. If leaving Maya Mountain Lodge and heading to the island an 8:00am departure is required from Maya Mountain Lodge. This package ends with breakfast on the last day.
Kindly note that when going to Tikal there is a departure tax of US$21.50 per person that is not included. This fee is paid at the Belize Western Border when crossing the border to go to Tikal.
Itineraries are subject to change due to weather, road or other conditions beyond our control.
All our accommodations have a/c, private bath, wifi.
Each is tastefully decorated with local decor.