Events:
Join us 5-6 p.m. daily for Happy Hour!
Free coffee, herbal teas, and the snack of the day. Meet fellow travelers and share stories.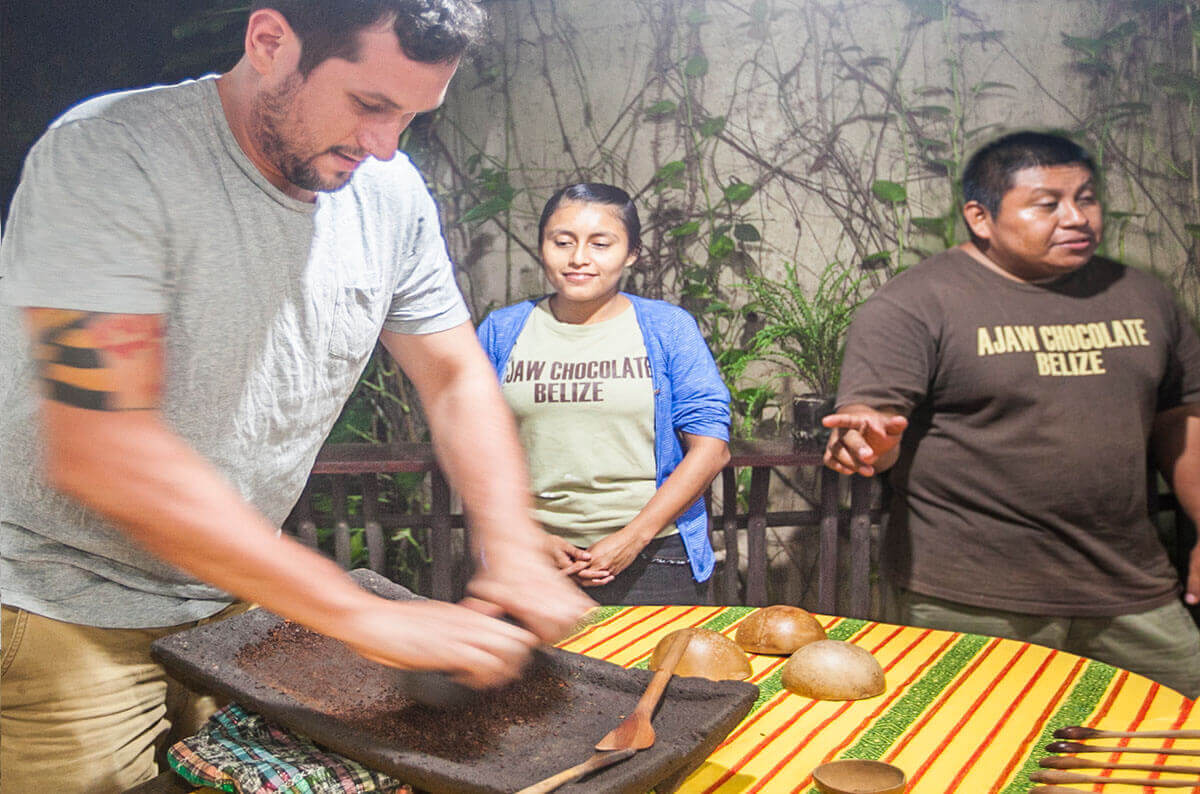 MONDAY
Kekchi Mayan Chocolate Night
More Details...
Kekchi Mayan Chocolate Night
5:30 pm Event- Join us to celebrate the Mayan culture, when we unearth the Mayan "Pibil" style underground slow cooked pork and turkey from the firepit.
8 pm Event - Chocolate Presentation done by AJAW at (USD$15 per person). A hands-on history lesson of the ancient culture of Chocolate which originates from Belize. Learn to hand-make chocolate and experience traditional mayan stone-grinding of cacao to make a delicious 90% dark chocolate. Reservations and payment required.
More Details...
Cultural Music & Grill Night
7:30 pm Event- Come Join us for some cultural music!
On grill night the Chefs bring the grill out right into the kitchen area! Try our famous marinated
and grilled Portobello mushrooms, Shrimp & Chicken kabobs, or order our classic T-Bone steaks.
More Details...
Saturday: Sunset Yoga & Mestizo Night
5 pm – 6 pm Event: Free Yoga class – Learn to harmonize and stretch the body (and mind!) with this unique form of exercise.
6:30 pm Event: Fiesta de maize! A celebration and demonstration on how the Mestizo cultural meals are prepared. Learn about Salbutes, Garnachas, Empanadas, Tacos and Bollito de Chaya.
Events:


(subject to change)
Join us 5-6 p.m. daily for Happy Hour!
Free coffee, herbal teas, and the snack of the day. Meet fellow travelers and share stories.
Our Tours
With over 28 years experience co-ordinating, Maya Mountain Tours assists you with your personal, family, group, or honeymoon expeditions to the exciting sites of Belize.
Ranging from national parks & archaeological reserves, hidden caves, to overnight camp-outs … to enjoying tropical gardens viewing wildlife while canoeing down vine clad rivers.
Most activities included in our adventure packages! We can book individual tours and activities – and we encourage you to choose one of our carefully planned packages to get the most of your stay and money.
Buying your tours in advance, or our packages is the best way to assure that the best guides and vehicles await your arrival. Package tours depart daily with minimum of 2 people. The best guides are often fully booked unless booked in advance.
Why our tours are distinctive
Professional Guides, the best in Belize, assure quality interpretation with a personal touch. Our guides are not only licensed, but hand-picked are at the top in their fields, with amazing records on their customer satisfaction.
Reliable and Safe and 28 years of experience assure hassle-free vacations. Guides carry cell phones and first aid kits to provide safety, coordination, and efficiency.
Ecological orientation encourages sensitivity to the people and the environment we encounter.
Maya Mountain Cultural Cooking School

Maya Mountain guests have long pleaded with us for our Belizean recipes so they learn to cook some of our delicious creations back home! At long last, Maya Mountain guests, as well as visitors staying in other accommodations, will have the opportunity to learn some of these wonderful dishes.
Each course includes either an adventure to the San Ignacio town and market just one mile away or a tour of the Maya Mountain Lodge grounds to view a diversity of edibles and ornamentals, many of which are ingredients in the course menus.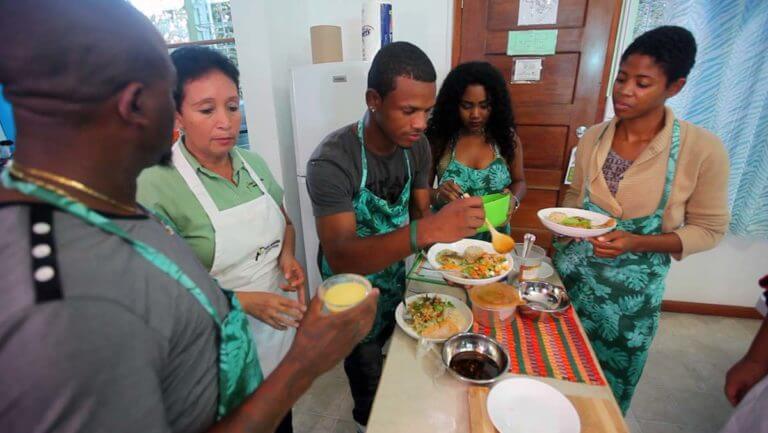 CULTURAL COOKING CLASS
              Mayan Regional cooking
              Time: 8 AM to 1 PM
COURSE INCLUDES
Introduction to locally available ingredients and possible substitutions

Hands-on preparations

Lunch consisting of the food you have cooked

Recipe book including the recipes you prepare
*Vegetarian non-meat or non-fish options available on request (Please request night before)